The Force Awakens on ABC this Thursday
The Force Awakens on ABC this Thursday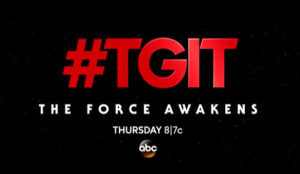 Do you want to see MORE previews of The Force Awakens?  Maybe?  They haven't really said what is going to be shown.  We'll find out Thursday.
"Thursday on ABC, The Force Awakens on TGIT.  Join Shonda Rhimes and the casts of Grey's Anatomy, Scandal, and How to Get Away with Murder as they share with you an exclusive special look at Star Wars The Force Awakens."
Uhhh, ok.  Weird.  This reminds me of the fake trailer in Scrooged with Bill Murray for the live showing of Scrooge on IGN.  Yule Love It!
"via satellite from New York, Bethlehem, Helsinki, West Berlin and the Great Barrier Reef, Charles Dickens' immortal Christmas classic.
starring Buddy Hackett, Jamie Farr, the Solid Gold Dancers  and Mary-Lou Retton as Tiny Tim.- Hosted by Sir John Houseman… – Bah! Humbug!"
Anyway, here is the official release information.  Are you going to watch it?
As a big @StarWars fan, I'm excited for Thurs, as #TGITAwakens with a special look at Star Wars: The Force Awakens! pic.twitter.com/gfYKPTfTEq

— shonda rhimes (@shondarhimes) November 10, 2015