Everything You Need for 3D Printing with Resin – And More
If you want to get started printing in 3D with resin there are aren't a lot of things you absolutely have to have. But there are also a lot of things that will greatly improve you quality if life. Even if you already print with an FDM printer there are a lot of different requirements that you don't have right now. I've stared a list here to keep track and will add more details as I have time.
Must Haves
Number 1: A 3D Resin Printer
Deciding what Resin Printer to buy can be really hard. But I am going to try and narrow down all the options. You really want to invest in the latest generation of printers. The Mono printers are going to be well worth the little bit of extra investment in the long run. I have a dedicated page where I go over some of the best current models. You can find that here: https://www.elitegeek.net/3d-printer-selection-guide/ Personally so far I have used these models and am very happy with them. I am working on a ranking system so you can help decide.
6 Inch Mono Printers – These printers are what is considered the "standard" size for a Resin 3D Printer
9 Inch Mono Printers – These printers are considered "medium/large" size Resin 3d Printers
More details will be added as we continue testing the printers over the long term.
Number 2: Resin
In order you print with your new Resin 3D Printer you are obviously going to need resin. In the last few years MANY new and specialized resins have become available. Here are some of the most popular types
Number 3: A Chemical to Wash the Extra Resin Off
After your print is complete there is going to be additional resin remaining on the model. And if you have hollowed your model there will be resin inside it. All of this extra resin needs to be removed before it can be cured (that is the next step). Different chemicals have different properties and different advantages and disadvantages. Here are some of the most common chemicals used.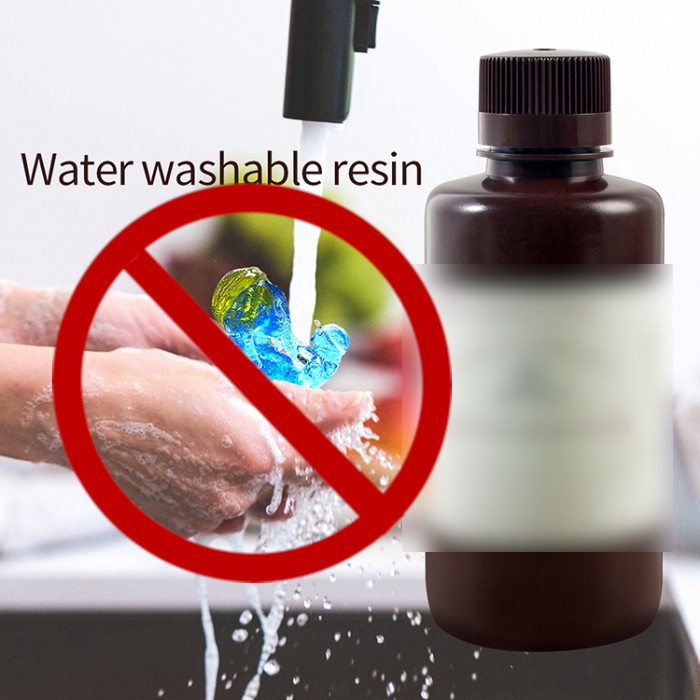 Don't wash Water Washable Resin in the sink!
Number 4: How to wash the resin off
There are several ways to wash the resin off using the chemicals in step 3. What is best depends on what resin you use, which chemical you use to wash off the extra, how convenient you want it to be, and how much extra you want to spend for that convenience. None of these options are appropriate when using Denatured Alcohol or Acetone. They are too strong and not suitable for use in plastic containers.
Number 5: How to cure the resin after it is dry
After your part is dry then you need to do a final cure on it. One note, make sure it is really really dry. Cracks and issues often come later when a part is cured before it is fully dry. All of these options provide the same result, just with different levels of convenience. The Wash and Cure options are nice because they can do both with less space. The other options are a matter of preference and budget.
Number 6: Must have Extra Tools
These are things you really need for quality of life printing.
Number 7: Spare Parts and things to keep around
You should always have spare FEP or NFEP ready to install when needed. NFEP has been repeatedly been shown to be better. But is a little more expensive.