How we record Youtube Videos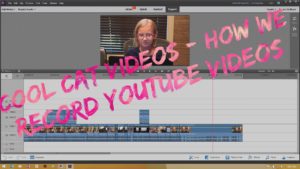 There are a TON of ways you can record Youtube Videos.  Some of them are easy with low quality.  Some of there are VERY complicated but have professional levels of quality.  We are somewhere in the middle.  In this video we go through the equipment that we use to make our videos for the Cool Cat Videos Youtube channel.

We didn't start out with all of this right from the start.  We collected it over time.  And we bought the camera's and other equipment used whenever we could.  But these links show you the basics of the devices.
This is how we record YouTube Videos that we are going to edit and make as professional as possible.  We used different equipment for Live Streaming and will probably make a separate video for that at some time.  Same for the editing which we do with Adobe Premiere Elements. That will be its own separate video.  When we record Youtube videos on the X-Box we use all the same equipment, its just connected to the X-Box 360 instead of the PC.
Primary Camera – Canon 70d: http://amzn.to/29daH0R
Backup Camera – Canon T3i: http://amzn.to/29ah5kg
Camera Tripod – Amazon Basics DSLR Tripod: http://amzn.to/29eLxeg
Microphone Boom – Basis Microphone Boom: http://amzn.to/297NZBj
Screen Recorder – Pyle HDMI Game Recorder: http://amzn.to/299Wf8A
Lavalier Microphone – Lav Mic: http://amzn.to/29gM54O
Desk Microphone – Condenser USB Microphone: http://amzn.to/299X6WT
Audio Recording – Audacity: https://sourceforge.net/projects/audacity/